THE SPIRIT OF NOVA SCOTIA VIRTUAL WORLD TOUR CAST
Ashley MacIsaac
Ashley MacIsaac is a Nova Scotian icon, a fiddler and singer-songwriter who is world-renowned for his prowess with the fiddle and known to those in Cape Breton for his homegrown talent cultivated at the clubs, halls, barns, and kitchens all over the Island.
A multi-Juno Award-winning artist, Ashley has released platinum-selling records, performed for crowds including the Olympics and Prime Ministers, and sold out shows around the world.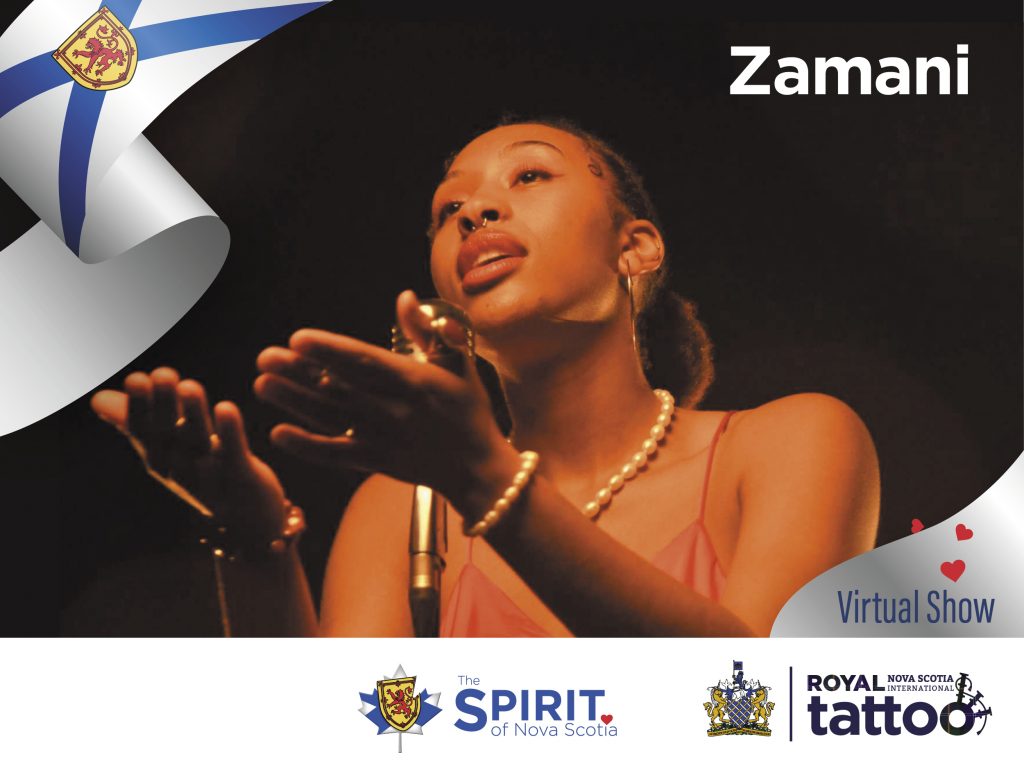 Zamani
Zamani is a quadruple threat in the Nova Scotia arts community: she's a talented songwriter, producer, arranger, and vocalist who quickly built her name as a uniquely talented R&B, soul, jazz and pop artist.
With a host of awards under her belt, Zamani is becoming one of the most prominent Nova Scotian artists working today.
Abigail MacDonald
Abigail MacDonald's life has been framed by Gaelic music and culture. The St. Andrew's native comes from a long line of musicians, and Abigail is renowned as a Gaelic singer and pianist, as well as a talented Highland and step dancer.
She is currently a fourth-year student at St. Francis Xavier University, where she studies Health Science. She spends her summers at the Gaelic College in St. Ann's teaching students everything she knows about the culture; and is a regular fixtured at ceilidhs and dances across Nova Scotia.
Emma Stevens
Emma Stevens became a musical sensation in 2018, even before she graduated high school. As a member of the Esaksoni First Nation, Emma has used her career and platform to advocate for the First Nations communities across Canada and to empower First Nations youth.
Her translation of Paul McCartney's "Blackbird" into Mi'kmaq helped raise awareness of the language. She also advocates for the missing and murdered Indigenous women and girls and revitalizing endangered Indigenous languages.
Serena Wu
Serena Wu is a celebrated bilingual singer-songwriter whose passion for music started at a young age. And now, the 17-year-old vocalist and pianist–who released her first original song, "Assez," last year–performs in both English and French and champions raising awareness for Francophone music and culture.
La Baie en Joie
La Baie en Joie is a highly experienced dance troupe composed of young Acadian performers who, through their colorful performances and lighthearted choreography, have continually honoured their native Acadie.
Còig
Nobody does non-traditional traditional Celtic music like the supergroup Còig, comprised of musicians Darren McMullen, Rachel Davis, and Chrissy Crowley. They're rising stars in the Nova Scotia music scene, but their inspiration extends beyond our borders–to world music, Irish tunes, and traditional Cape Breton music and folk songs.
Evans and Doherty
Icons of the East Coast music scene, Evans and Doherty have worked together for over 30 years. Their music is essential to the Nova Scotian experience: whether they're performing in pubs, concert halls, on stage or at festivals, their blend of traditional, original, and contemporary tunes weaved with stories and humour, have made them legendary local performers.
The Mellotones
The Mellotones light up the dancefloor wherever they perform thanks to their powerhouse vocals, dynamic horns, and sensational rhythm section. For over 20 years, this local 8-piece band has put their catalogue of soul, funk, disco and R&B tracks to good use, making them one of the most in-demand groups around!
Julia Deuville
Julia Deuville has been a mainstay of the Truro music community over the past six years, studying various vocal styles and learning many genres of music. She's been a part of the Truro Music Festival for years and has been cast in various musical theatre and concert productions in her hometown. She released online music videos during the pandemic and will continue her musical journey as she enters university this fall.
Stadacona Band of the Royal Canadian Navy
Not only has the Stadacona Band of the Royal Canadian Navy been the Tattoo's long-time pit band, but it is also a full-time professional military band that has represented the Canadian Armed Forces and the East Coast Navy, as well as Halifax, for over 75 years.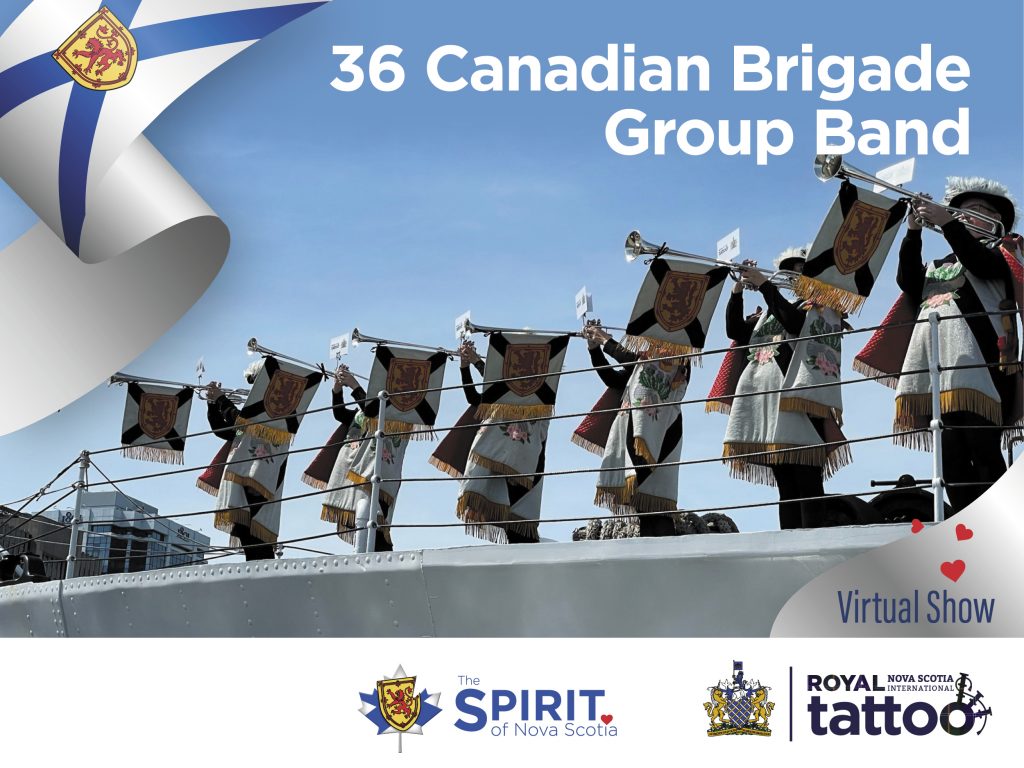 36 Canadian Brigade Group Band
Fanfare trumpeters from the 36 Canadian Brigade Group Band have joined the Tattoo this year to represent the Canadian Armed Forces and augment the musical aspect of the show. Based at Royal Artillery Park in Halifax, the reservists of the 36 Canadian Brigade have served at home and overseas.
Obstacle Race Teams
1st Field Regiment 51 Battery, Halifax – 84th Independent Field Battery, Yarmouth
Teams from the 1st Field Regiment 51 Battery, Halifax and the 84th Independent Field Battery, Yarmouth are running the Obstacle Race to celebrate the 150th anniversary of The Royal Regiment of Canadian Artillery. Who will you root for?
PO2 Brad Davidge
PO2 Brad Davidge has performed at the Tattoo for many years, but he's also actively involved in the music scene both in Nova Scotia and around the world. Some of the performers he's worked with include Natalie MacMaster, Bruce Guthro, and the Stadacona Band of the Royal Canadian Navy.
Tattoo Choir
As one of the key local performers, the Tattoo Choir has
been an integral part of the show for 38 years. Led by choral director Patricia
Tupper, the Tattoo Choir is composed of vocalists from across Nova Scotia, and
their voices add a poignancy to the show's most emotional scenes.
Tattoo Highland Dance Team
The talented dancers that make up the Tattoo Highland Dance Team are some of the best in the world. Their flings, reels, and sword dancing are top notch, combining skill with traditional dance and always dazzling audiences!
Tattoo Massed Pipes & Drums
It's the most iconic sound you hear at the Tattoo: the skirl of the bagpipes and the beat of the drums. This year's unit is led by Pipe Major MWO (Ret'd) Daniel Smith and Lead Drummer Master Corporal Tom Cuming. The Tattoo Pipes & Drums is comprised of Canadian Armed Forces regular members, reservists and civilian volunteers.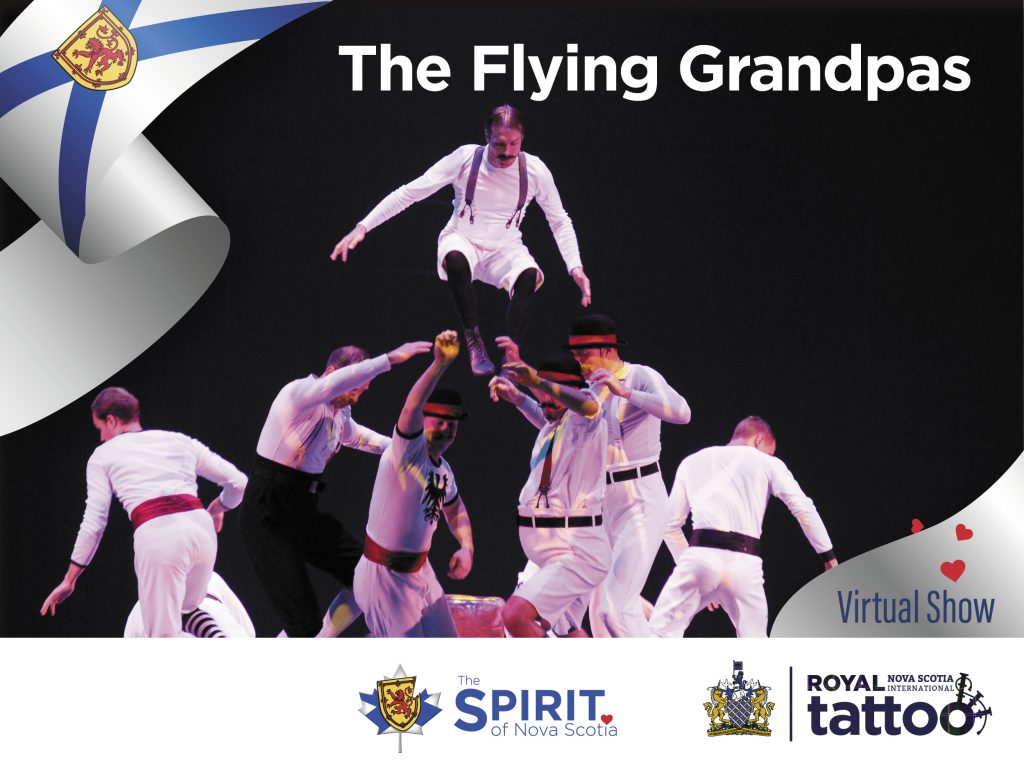 The Flying Grandpas
They're back…in virtual form! The Flying Grandpas have been a fan favourite at the Tattoo for decades. Their ability to make the audience laugh, while displaying their gymnastic tricks, keeps them coming back year after year!
His Majesty The King's Guard 3rd Company
His Majesty The King's Guard 3rd Company is one of the most prestigious and lauded military bands and drill teams in the world. Representing the Norwegian Armed Forces at tattoos around the world, the unit will showcase their skills from their native Norway while delighting Tattoo audiences watching from home!